The Top 10 Hindi Books for Your Child (for Babies, Toddlers and Kids)!
Written by: Toka Box Editorial Team
Happy Hindi Diwas!
We at Toka Box are really excited about the amazing bilingual Hindi book choices, young kids have these days! See below for a list of Hindi books you can add to your bookshelf.
These Indian books and stories not only introduce Hindi to your child, but will also give them a look into South Asian culture, nursery rhymes, and more.
Recommended Age 0+ Years

What it's about
Das Din is a wonderful Hindi nursery rhyme from our childhood. Rhymes are such fun to recite and so offer a great way to learn the language.
What we love about it
This is a board book with flaps to open and tabs to pull is a fun way to learn to count in Hindi. The book has Hindi script as well as a transliteration in English for those who are not familiar with the Hindi script but know the language.
Recommended Age 0+ Years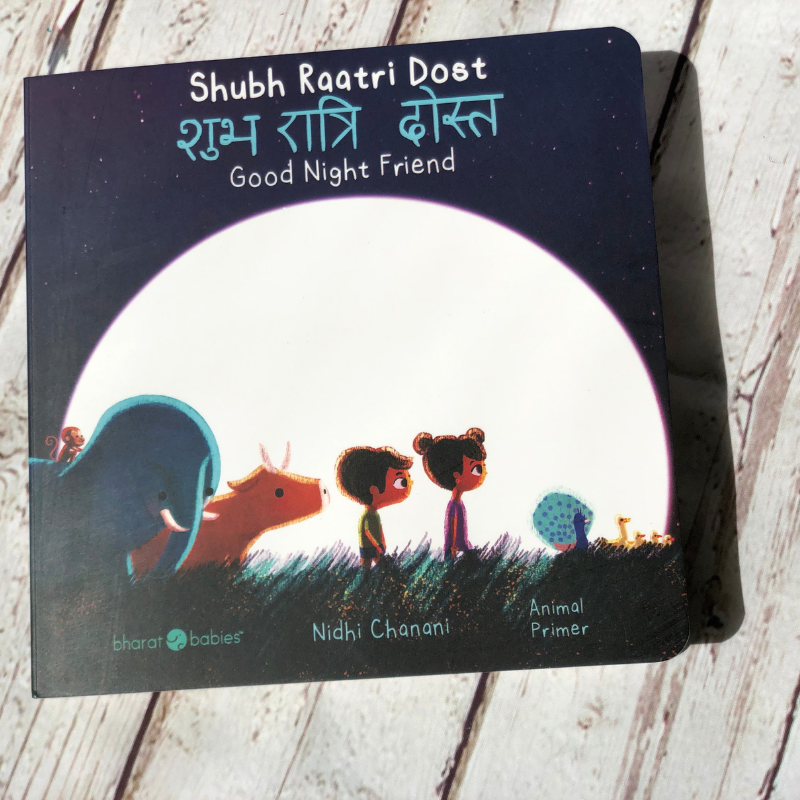 What it's about: Shubh Raatri Dost is written by Nidhi Chanani. This beautiful bilingual Hindi-English board book shows how Bhai (brother) and Behan (sister) walk through their Indian farm home, bidding each and every animal goodnight. 
What we love about it: The book, with its refrain of 'Shubh Raatri' or 'good night,' works as a beautiful bedtime story. Its mood, ambiance, and the gentleness of its words and illustrations really make it a soothing, calm, and gentle bedtime tale for babies.
Every sentence in every page has a Hindi translation in the Hindi script, Romanized Hindi, and English, making this an accessible and easy bilingual book that actually works!  We love the way the babies in the book say 'dhanyavaad' or 'thank you.' We love the sequence that the book follows, the soothing repetition, and the rhythm.
Recommended Age 0+ Years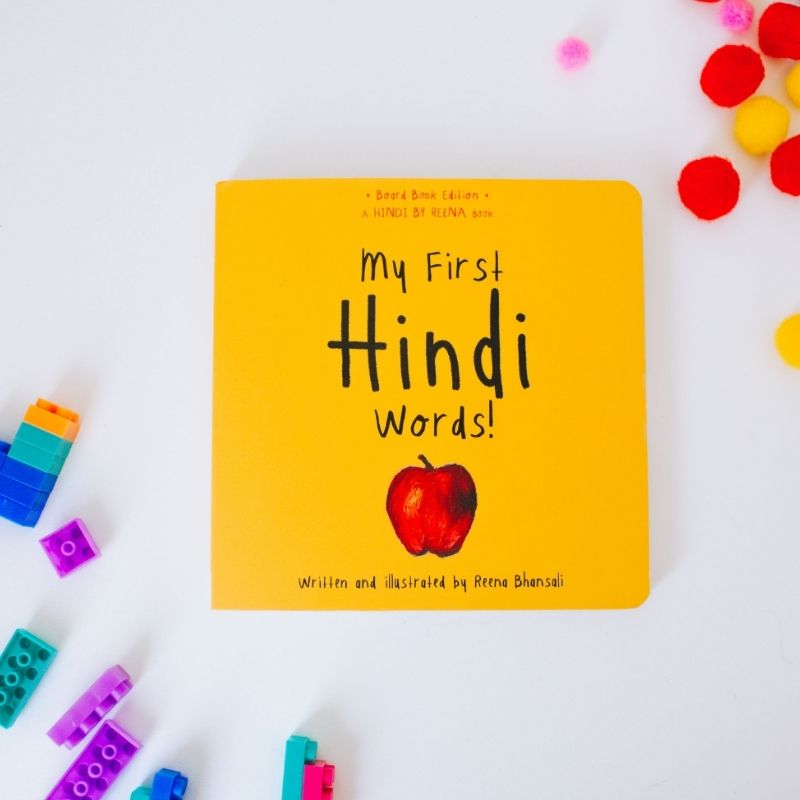 The book is simple, fun, and colorful. What I noticed was that my daughter was not intimidated to pick it up and glance through it when I had left it for her to read. Each page has a colorful background with an object in it and the word to describe it in Hindi (but written in English).
This meant that my daughter could pick it up herself and use it as a reference. The other day, she was walking around yelling "Silly, Billi" at our cat. Then she confirmed Billi really did mean cat in her My First Hindi Words book! Perfect! 
We are well on our way to crossing the first barrier; learning a few words, not worrying about the accent, and using that word in a sentence, albeit a "silly" one. 
If you are just starting out on your Hindi vocabulary journey and need a book that holds your child's interest and meets them where they are without intimidating them with the Hindi script and complex words, this is a must-have in your library! 
Recommended Age 3+ Years

What it's about

A little girl – Noor and a little boy – Neel, a packet of Bindis, and a menagerie of animals complete the book.  
What we love about it

It covers quite a bit of Hindi vocabulary - from colors, shapes, and sizes to general terms like "look," "come," and "friends." The text covers a lot of the words that you would typically learn when you start out learning any new language. The text is written in English, in Hindi and the Hindi in English is a nice addition. 
Recommended Age 3+ Years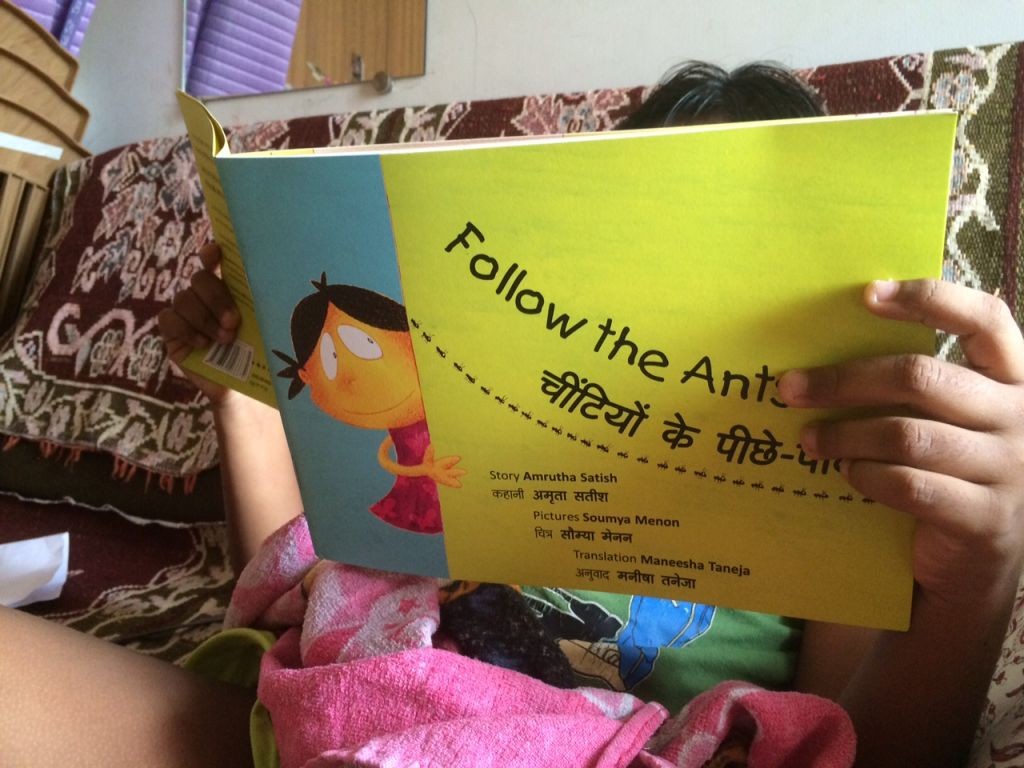 What it's about

Anita loves all small things - pebbles, insects, shells, and worms. One day she sees a long line of little ants. Curious, she decides to follow them. But where do they take her finally?  
What we love about it

The translation by Maneesha Taneja is easy to read. The book is a delightful way to introduce toddlers to everyday Hindi words and make them observe things around us 
Recommended Age 3+ Years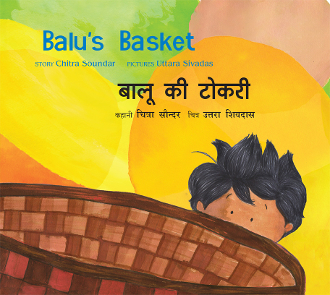 What it's about
One day, Balu finds a basket. What does he do with it? Bright, clean pictures create a cheerful backdrop for this fruit-filled book. 
What we love about it
A great way to introduce preschoolers to the Hindi words.
Recommended Age 3+ Years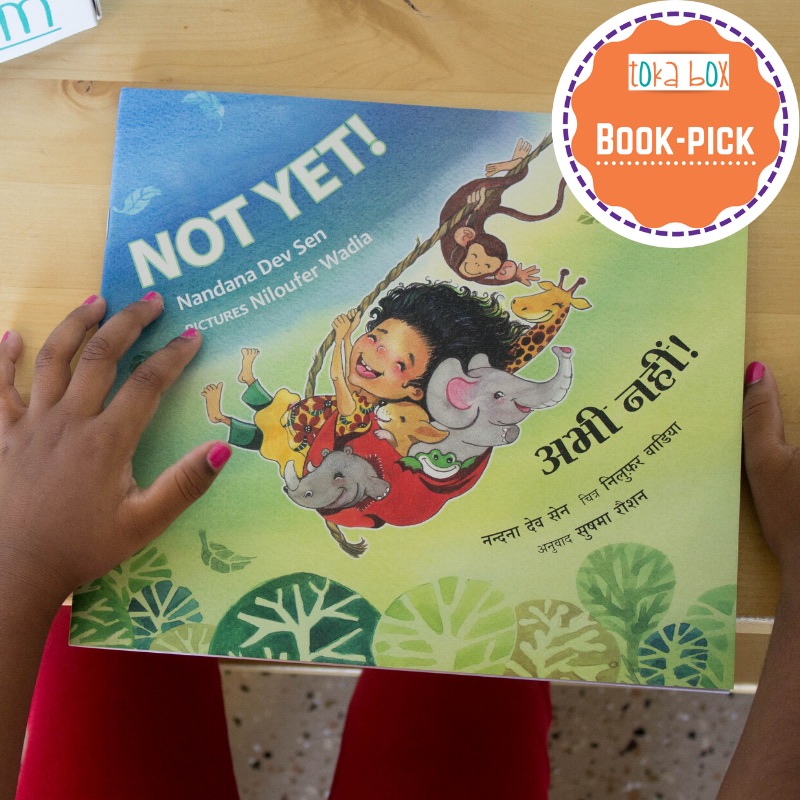 What it's about: "My dear, it's time for bed," says Ma. But "Can a frog stand on its head?" wonders her little girl. Lost in a world where she must learn to fly with birds in the sky, snuggle a whale, kiss the kangaroo… she has so much to do! Sleep? Not yet!
What we love about it: It is every parent's tussle, isn't it? The author narrates it beautifully. The Hindi translation is stunning!
Recommended Age 3+ Years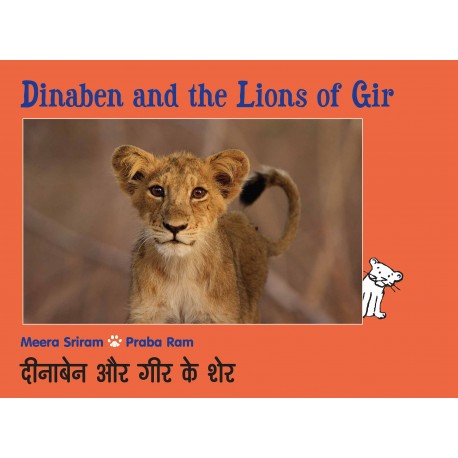 What it's about
Dinaben is a Maldhari and her village is right in the middle of the Gir Forest where the Lions live. What does she do? How does she live? The book offers glimpses into how the Maldharis and the lions have coexisted peacefully for many years. 
What we love about it
Children will find it easy and fun to follow the story in 2 languages. 
Recommended Age 0+ Years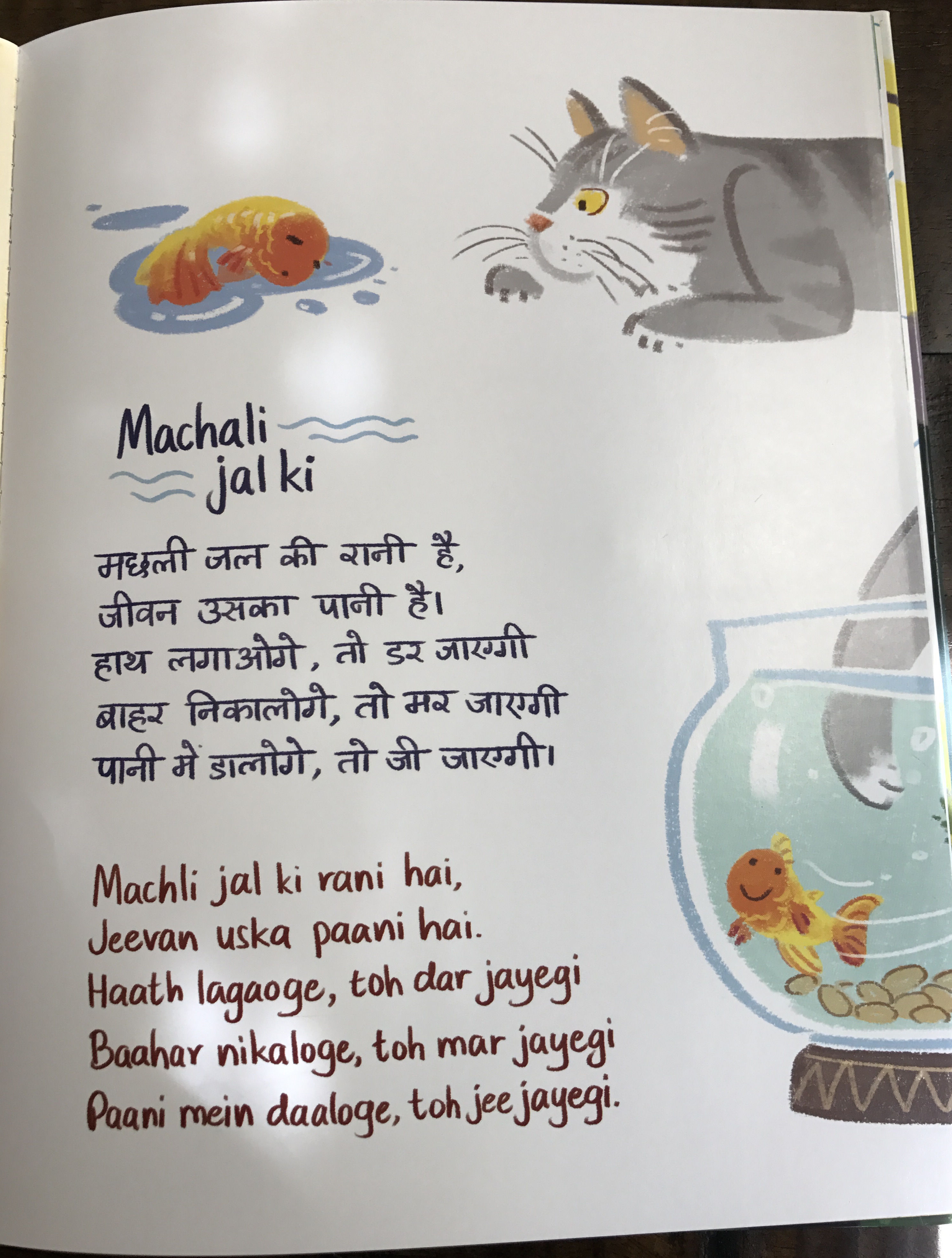 What it's about
A book of familiar Hindi nursery rhymes from our childhood. The book comes with music by Ramya Shankar, available for download. Akkad, Bakkad Bumbe Bo, all the rhymes we loved as kids! The Machali poem is a message about letting someone thrive in their natural environment. 
What we love about it
This book has poems in Hindi script as well as a transliteration like the board book. Such beautiful poems are also part of our heritage. 
Recommended Age 5+ Years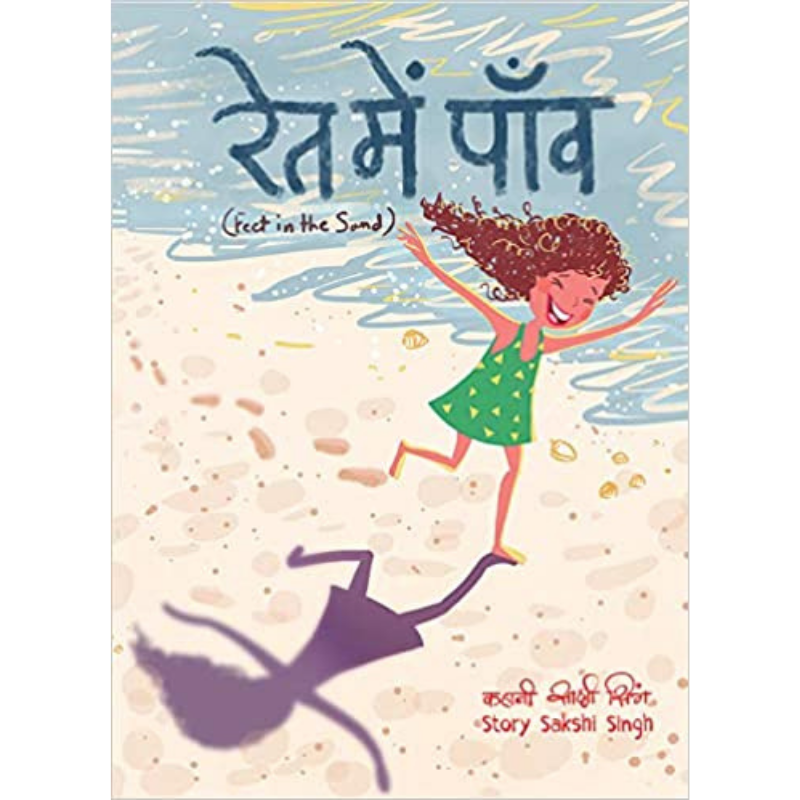 What it's about: Raiit Mein Paanv (Feet In The Sand) is a bilingual poetry book about the stories of the sand and the sea, of you and me. It focuses on the need of the hour to save our earth and clean our planet in a fun and childlike way!

What we love about it: The Hindi verse is lovely and rhythmic. The story is wonderful and encourages children to protect the planet.